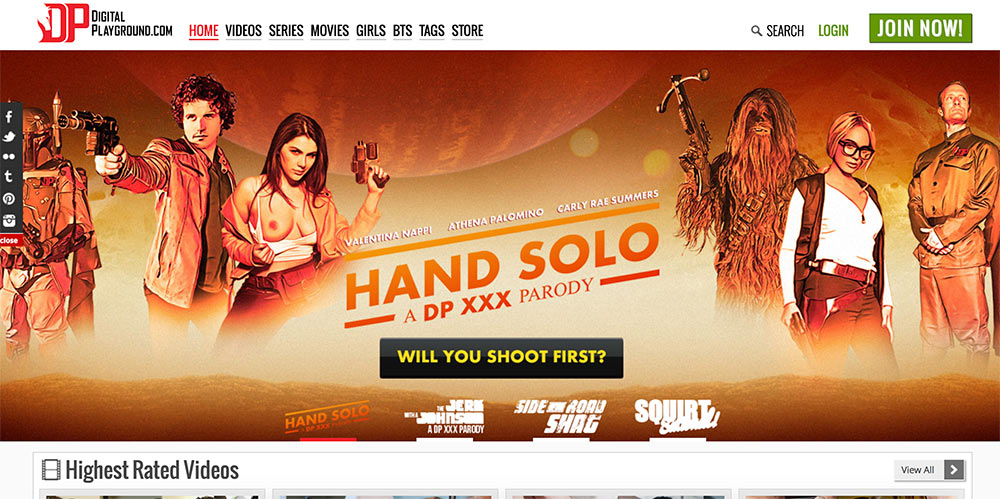 User Rating:
Digital Playground is the online home of the porn studio by the same name, which is one of the largest studios around today – among the top 5 most influential studios in porn production globally. The company was founded in 1993, and has been going strong ever since. They specialize in a wide variety of genres of porn, but are most well-known for their Virtual Sex series, which they pioneered, in which users can choose positions and attitude of the performer in a sort-of "choose your own adventure" of porn. They have also received great acclaim for their big-budget titles (titles, not titties, though they have those too), as well as their parody films.
The site is by no means one of the highest trafficked on the internet, though their ranking puts them somewhere around 8,000th site across all categories globally by traffic, which is quite respectable. Their main business revenue has cum from DVD, Blu-Ray, and VOD sales, and a majority of their 25 years' of content is available for members on their site.
Digital Playground is currently owned by MindGeek, formerly known as Manwin, the single largest conglomerate of adult sites and production studios in the world, which gives them access to some of the top pornstar talent around.
Digital Playground Content
The site is primarily a video site, featuring both scenes and full movies from their catalog. Some features and statistics:
533 of their full-length feature films are available, dating back to 2000.
Nearly 4,000 scenes are available across a range of product lines, including movie scenes, episodes, parodies, Flixxx, and Rawcuts. These also date back to 2000.
Most new scenes added are 25 to 45 minutes in length.
Over 350 behind-the-scenes videos take viewers behind-the-scenes of some of the company's top feature films.
A fully-stocked adult store featuring the company's movies for purchase on DVD or Blu-Ray, in addition to a wide range of quality sex toys and adult novelty products.
Over 1,200 female pornstars featured in their films, including several exclusive/contract girls at any given time.
The company has been filming in HD since 2005, and pretty much all scenes available from around that time onward are in full HD on the site.
It should be noted that the content of Digital Playground productions are all heterosexual male/bi or lesbian female-oriented, only featuring male/female, female/female, female solo, and permutations of that content. No solo male, male/male, or transsexual content is present.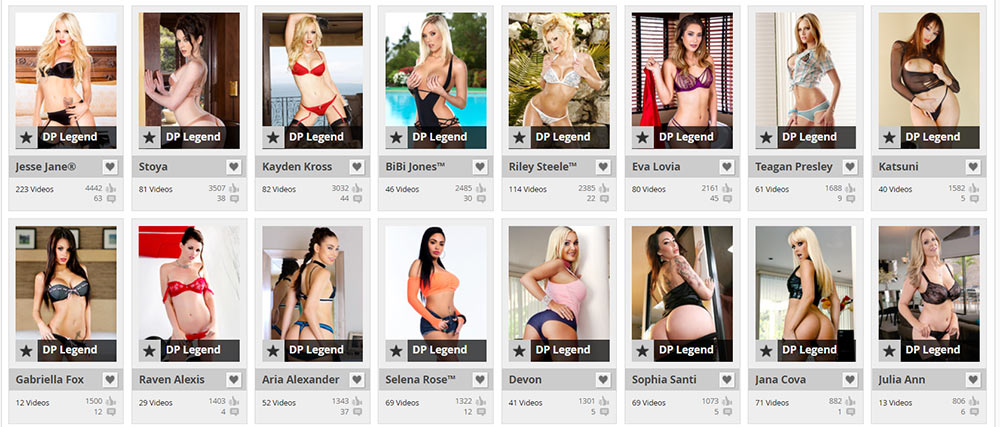 Digital Playground Categories
Digital Playground has videos in a wide number of categories, which can be browsed by model, product line (parodies, films, etc.), searched directly through a search feature, or sorted and filtered by tags. They currently have several hundred different descriptive tags assigned to their videos, so it's incredibly easy to hone in on specific types of content, girls, or scenes. Additionally, videos can be browsed based on popularity, release date, and other features.
Some of the top video categories featured on the site include Parody, Lesbian, MILF, Teen, Big Tits, Big Ass, Ebony, Latina, POV, Blockbuster, Creampie, Asian, Orgy, Threesome, and many, many more.
Star Power
With over 1,200 girls gracing their catalog, there are plenty of big-names here, including girls that work or worked exclusively for Digital Playground. Some of the top talent based on user ratings includes several former exclusive stars that did so many films they're termed "DP Legends" (for Digital Playground, not for getting DPed, though some surely did that as well).
Top stars include Jesse Jane, Stoya, Kayden Kross, Bibi Jones, Riley Steele, Eva Lovia, Madison Ivy, Jenna Haze, Sasha Grey, Faye Reagan, Tori Black, Alexis Texas, Kristen Price, Asa Akira, Teagan Presley, Riley Reed, and hundreds more.
Network
Digital Playground itself is not affiliated with any other network of sites. All their content comes from their own in-house productions, under various labels/product lines, including their Parodies, Flixxx, Rawcuts, BTS, feature films, and various scenes.
Digital Playground is owned by MindGeek, based in Montreal, Quebec, Canada, with satellite offices in the US in Los Angeles, Houston, and Miami. Though this international parent company owns many sites and networks, they are independently managed and content remains exclusive, as do subscriptions.
Subscription
As with the majority of studio sites, there is not a lot of free content, aside from browsing and searching for videos and watching short trailers. For all the good content, you need a membership/subscription.
Like many MindGeek sites, in addition to paying by credit card or paper check, you are able to pay for your subscription by trading in unused merchant gift cards from about 50 major brands, which is a nice feature, especially for those who are concerned about credit card fraud, or have significant others with access to the credit card statement.
We do the math so you don't have to! Below you can find a comparison of the different subscription plans available and our recommendations.
*The 3 day trial membership has "limited access", but the exact restrictions cannot be found in the Support section of the website or in the Terms and Conditions of Membership.
Porn Explosion Advice: If you like the quality and style of content on Digital Playground, don't waste time with the shorter memberships. The best value is the full 1 year membership, which is essentially the same price as 3 months at the monthly rate. Put another way, it works out to something like a quarter a day for complete access to their online catalog.
We always recommend signing up for trials with a Visa, Amex, or MasterCard gift card, with a small balance, in case you have trouble cancelling or forget to cancel before the auto-renewal.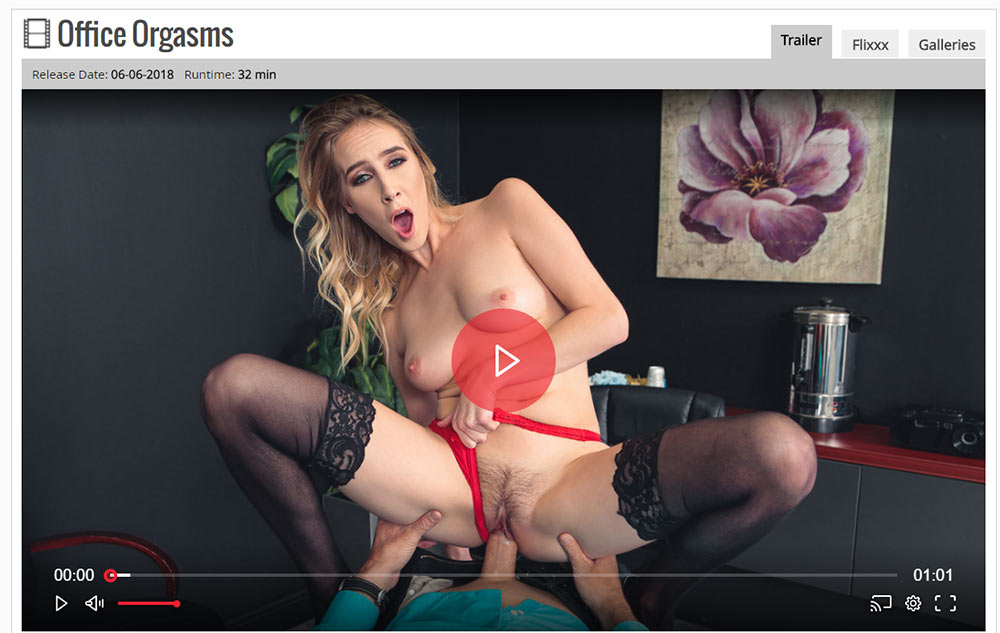 The Money Shot
There's not much to say in a negative way about Digital Playground. If you're looking for solo male, gay male, or transsexual content, you're out of luck here. But for everything else, they have a wide variety of high-quality, HD video content, big-budget blockbusters and parodies, and some of the top talent in the industry. The one-year subscription option is incredibly affordable for the quality and quantity of content available on the site. At Digital Playground, they're not horsing around! See, because their logo has a horse in it…it's a joke…aww just go sign up and fuck yourself!