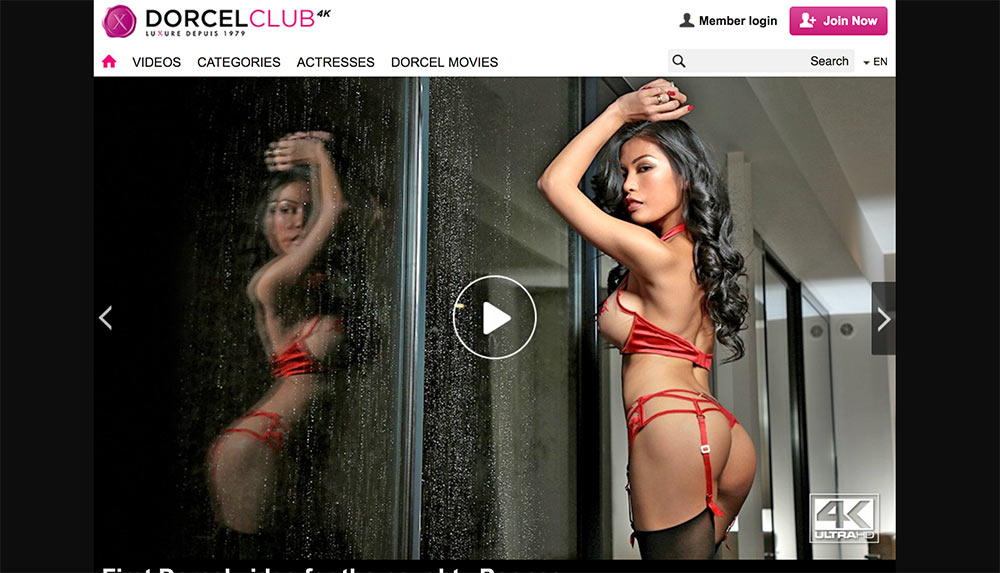 User Rating:
Dorcelclub.com is a subscription porn site that was registered in 2006. It's the official membership club of French-Hungarian porn producer Marc Dorcel. Dorcel's production house has won more than 25 AVN awards, and he was inducted into the AVN Hall of Fame in 2015.
As of February, 2019, Dorcelclub.com is the 40,075th most-visited website in the world, the 2,711th most-visited adult site, and the 9,024th most-visited website in France, the country where it's most popular. Its Alexa ranking is 39,208th worldwide, and 14,800th in China, where it ranks higher than any other country.
Dorcelclub Content
Dorcelclub hosts all 300 of Marc Dorcel's full-length porn movies. These date back to the beginning of his career in 1980. Since this is classy European porn, it was shot on film, not tape. As a result, this is one of the few places where you can find vintage porn in full 1080p. Many of the newer videos are also available in 4K, so you'll see every last bead of pussy juice. In addition to full-length videos, Dorcelclub also features over a thousand short clips, interviews, and behind-the-scenes footage.
If you're already a member of one of Dorcel's other sites, you'll already have access to a lot of these movies. That said, a handful of them are exclusive to Dorcelclub, and the behind-the-scenes footage is entirely exclusive to this site.
The main page displays a large ad urging you to sign up, unless you're already a member. Beneath this ad are thumbnail previews of the most recent videos. Clicking any of these will take you directly to the video player.
There is no free content here whatsoever. Not so much as a single, 30-second video clip. Non-members will see a slideshow of four or five preview pictures from a video, and clicking the Play button will take you to Dorcelclub's subscription page.
There are no live cams, image galleries, erotic stories, games or VR porn on Dorcelclub, although you can find most of these things on some of Marc Dorcel's other sites. Because this is a paid site, there are no ads for subscribers. The mobile site is well designed, and collapses everything into a single column so you can navigate it with one thumb.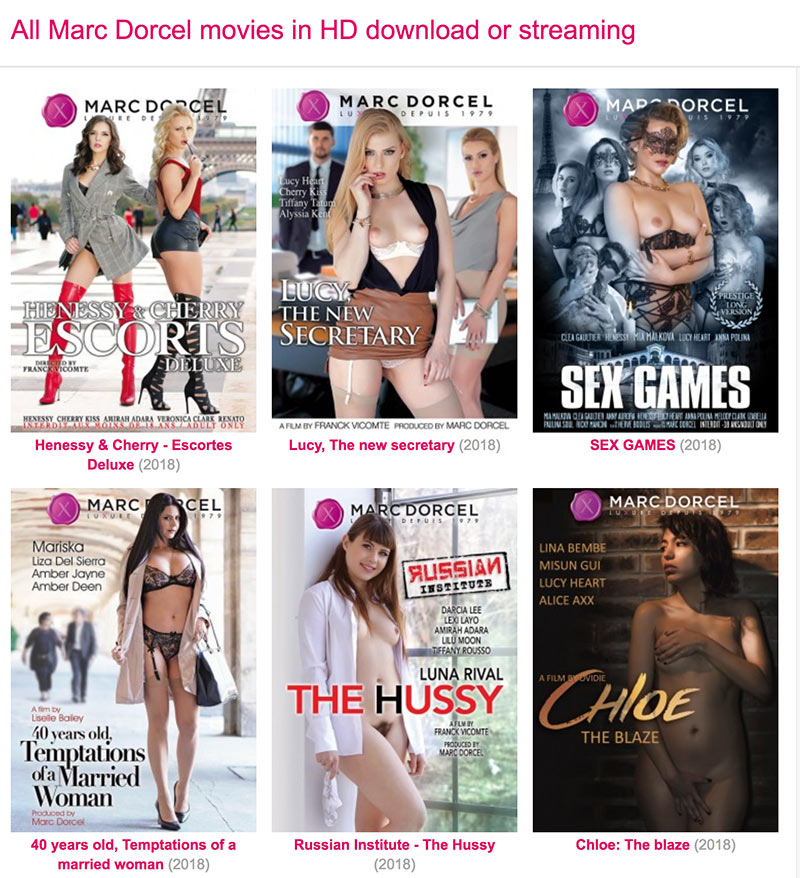 Dorcelclub Categories
Because Dorcelclub is a studio site that produces several different series, the categories are a bit different than a lot of porn sites. While they do have a few series with familiar themes, like Lesbian, MILF, Big Boobs and Outdoor Sex, a lot of the series are more specific. For example, the Welcome In Jail series follows the sexcapades of a female prison inmate, while the Pornochic series is a mishmash of glamcore videos.
There's a basic search box in the top right corner. You can type in any common term like Teen or Blowjob, and a dropdown list will show up with related videos and a link to view all videos with that tag. The same search bar can also be used to search for a specific pornstar.
From artistic lesbian porn to hardcore European double penetration, there's something on this site for most people. That said, Dorcelclub is all about the girls. Gay men will definitely want to look elsewhere.
Star Power
Most of the stars on Dorcelclub are European, and will be unfamiliar to users of major US porn networks like PornHub and Reality Kings. To fans of European porn, though, many of these ladies will be familiar. Their hottest models include Anissa Kate, Claire Castel, Anna Polina, Cherry Kiss and current brand ambassador Cléa Gaultier.
Network
Dorcelclub.com is the official membership site of Video Marc Dorcel, which is Marc Dorcel's production company. They have several affiliated sites. These include Dorcel.com, their main distribution site, and Dorcelle.com, a site that's made by and for women.
They also run a magazine (Dorcelmag.com), an adult toy shop (Dorcelstore.com), a streaming porn TV channel (DorcelTV.com), and a subscription-free site for downloading and renting porn videos (Dorcelvision.com). They do run a small VR channel (Dorcel.com/VR/) and a blog (Dorcel.com/blog), although the blog is only published in French.
Subscription
Dorcelclub.com offers four subscription packages. While all of them give you access to the entire site, the prices are better for longer-term subscriptions.
The basic option is a 1-day trial subscription that costs $1.99. A monthly membership will run you $29.99, while a 6-month membership will only cost $20 per month, or $120 total. The best value is a 12-month membership, which costs $179, or about $14.92 per month. This is more expensive than most sites, but it's not outrageous.
Autobill warning: At the end of your subscription, it will automatically renew at the same rate. The 1-day trial subscription will renew at the base monthly rate of $29.99 per month, so you might want to consider cancelling and resubscribing to get a better rate. During signup, there's also an option to join DorcelTV.com with a $4.99 3-day trial membership. This is enabled by default, and will autobill at $24.99 per month. Unchecking the DorcelTV checkbox will prevent this from happening.
The Money Shot
Dorcelclub is a well-designed site with a deep catalogue. It's definitely made for people who like traditional porn as opposed to short clips, and is one of the only sites you'll find with high definition vintage porn. In terms of sheer volume, it falls short of mega-sites like PornHub, but the video quality and production values are far better than you'll find most places. This site is like a 12-years-aged bottle of Whiskey — it's expensive, and it's not for everyone, but damn is it good.