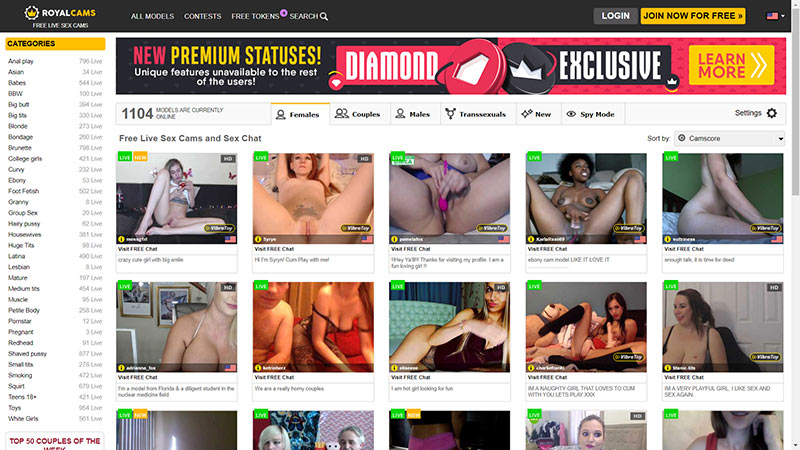 User Rating:
RoyalCams is a quality cam site with many typical cam site features, and a quality package of behind-the-scenes technology keeping everything running smoothly. There are tons of models and a number of different private video chat options, so there's something for everyone here. Their model catalog features over 110,000 registered cam models from around the world, and there are tens to hundreds of thousands of users on at any given time enjoying the site. It's in the top 10,000 most-visited sites globally across all categories by traffic, and continues to improve its ranking month after month as more and more people find this hidden gem.
It's a white label site of BongaCams, run by Proweb Progressive Development Ltd. out of Cyprus, though the company itself is based in the Netherlands.
RoyalCams Content
Webcam video chat streams are the main content on RoyalCams. With fully explicit, tip-based free chats, as well as 4 different paid private chat types, there's no shortage of different options for users. Add to that a wide range of typical cam site features, and it's easy to see why so many people enjoy spending time on RoyalCams. Unlike some webcam sites, where models set their own per-minute rates for private chats, RoyalCams uses a fixed price structure. This makes it easier to focus on finding the perfect model(s) to chat with, and easier to manage your wallet, too. Site features include:
Free chats that include nudity, masturbation, toys, and fucking
Four private chat modes

Private
Full private (where no one can spy on your chat)
Spy/voyeur mode (where you can spy on another private chat but not interact)
Group chat mode

Support for interactive toys, such as the Lovense and OhMiBod line
Cam2Cam feature for two-way private chats
Private messaging to models
View multiple chat streams at once
Videos available for token purchase or for free
Model profiles with their information, cam schedule, and more
Regular contests and events
VIP membership option
Several tiers of membership status rewards and perks based on your lifetime token purchases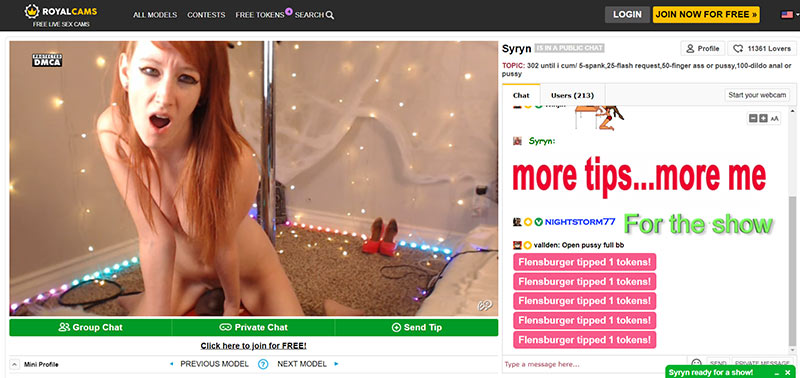 RoyalCams Categories
Within the webcam video chat streams, there's quite a diversity of categories available. With a large model catalog of 110,000+ models, it should be no surprise to anyone that there's a good mix of performers into all sorts of different things. You can use the simple search, advanced search and filtering, category browsing, or top-level, gender-based browsing options to find models that suit your tastes. These systems include 3 dozen or so main categories for performers, along with much more detailed filters based on age, ethnicity, body type, and so on. There are also 80 some-odd pre-made tags that models can use to tag their chat, with all manner of different kinks, fetishes, sex acts, and so on. From Pregnant to Asian to Latina to Redheads, Anal to Bondage to Group Sex, Solo Transgirls to Lesbian Couples, and BDSM to Squirting, you'll find it all on RoyalCams.
Star Power
There are no major mainstream US pornstars working regularly on RoyalCams. However, the overall model catalog more than makes up for this. With a mix of girls, guys, and transsexuals from all over the globe, you have a great mix of body types, looks, and styles. These range from true amateurs to high-class professional and studio-affiliated models. There are usually around 800 models online, about 600 of them solo females, and the rest a mix of solo males, solo transsexuals, and couples of all types.
Network
RoyalCams is a white label of BongaCams. This means it has the same interface, layout, and model catalog, but does not necessarily share the same user accounts or token balances. Sister sites built on the BongCams platform include CamFuze, BimboLive, RusCams, and several others. While not part of a formal network, the BongaCams platform does maintain two associated sites: BongaCash (an adult affiliate program), and BongaModels (a recruiting and resource site for cam models).
The core site, affiliated sites, and white labels are all run by Proweb Progressive Development Ltd. out of Cyprus, though the company itself is based in the Netherlands.
Subscription
FREE CONTENT ALERT!
You can enjoy RoyalCams totally free with a basic account. There are plenty of free shows put on by models who are hoping to earn tips. While it's not polite to just lurk and never tip, you can get a taste for what the site and models have to offer before you pony up some dough for tokens. Private chats and tipping require tokens, with several different purchase options and package sizes to choose from.
There's also a paid VIP membership option, which adds some additional perks to your account. It's basically $20/month, and in our opinion not worth it at that price. Recently, they've revamped the program, though, and provide $5 vouchers every 10 days for token purchases, meaning it's effectively only $5/month – a price we can totally do doggy style….I mean, get behind.
On top of all of that, there' a rewards program, so your membership status increases based on your lifetime token purchase totals. A single purchase of any amount unlocks most of the base features, with successive rewards levels offering status increases, avatars, special chat fonts, and even discounts on token purchases. None of that requires a subscription or special VIP membership, and is automatically rewarded based on your token purchase totals over time.
We do the math so you don't have to! Below, find a comparison of current token package prices.
Porn Explosion Advice: The cheapest options are usually the larger token packages – most cam sites reward you for buying in bulk. While PayPal is convenient, credit cards are a cheaper overall option in terms of the token cost/how far your money will go. Alternatively, if you're into the cryptocurrency world and have crypto funds you'd like to spend, the prices are generally fair with that option as well.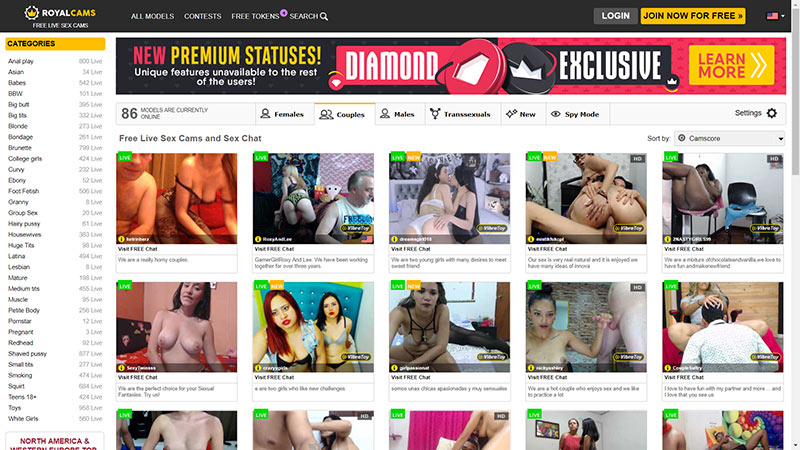 The Money Shot
RoyalCams is pretty much the definition of a modern webcam site. With a large catalog of models, solid technology and navigation, good search and filtering options, and lag-free chat streams, you can't miss! The fixed costs are really nice (you don't need to try to do mental math and figure out if the model you like is worth more or less than the next model), and pricing overall is quite fair and comparable to most other cam sites, maybe even a bit less than some others. The only negatives are, like all cam sites, private chats can be awesome but can end up costing you a lot, and that the content is really only video chats and shows, along with some pre-recorded videos. You also have to spend a ton of money on tokens to get some of the higher membership reward levels, but those really should be seen as loyalty perks rather than something essential. Even with just a single token purchase, you get access to all the major site features, and can have an amazing time with some hot, sexy models getting off live on camera. No complaints about that from us!